(Blue Springs, MO)
Scooter's 400th bar, first visited in 2007.


When we asked for 10-oz draws our bartender asked us why we wanted such small beers. Not wanting to get into too much detail about our plans for the day we just said that we were on lunch break for work. "Where do you work?" she asked. Not wanting to get trapped, I said "Oh, we all work at different places and just decided to meet up here for a beer."
With our 10-ouncers in hand, we settled down to play the trivia box.
The odd centerpiece of this bar is the televangelist-style image of (presumably) the owners, painted onto a mirror…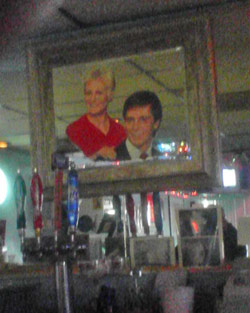 1513 SW State Route 7
Blue Springs, MO 64014
[launch map]
(816) 229-9229