(MSP Airport, St. Paul, MN)
Scooter's 1638th bar, first visited in 2023.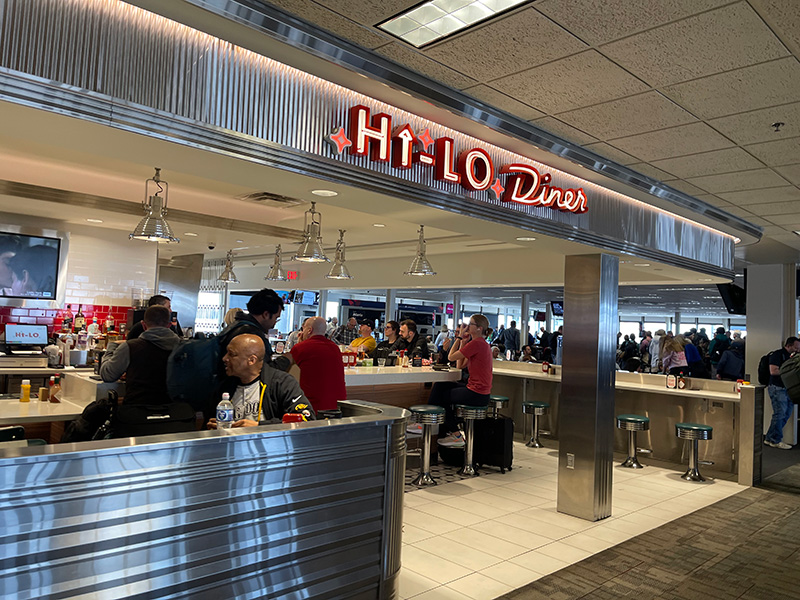 As I was heading to the airport my online boarding pass showed my flight departing from concourse G, so I picked out a bar there to grab some lunch and hang out at.
By the time I got through security that had changed to a gate in concourse F. Having not done any advance research into F, I went and found my gate first, then saw this place right across from it. A perfect spot to grab some lunch and a drink while keeping an eye on my gate.
They were out of a lot of food items, but they did have chicken tenders and fries. I was feeling a bit beered-out so I got a drink called Minnesota Goodbyes — a coffee-based cocktail.
After I finished my drink and lunch I was considering ordering a beer. I glanced over at my gate to see how things were looking, and now there was a different city on the screen! I checked my boarding pass, and now it had a new gate again, this time way over in Concourse C! So I had to close my tab and speedwalk, reaching the new gate with just minutes to spare before boarding.

4300 Glumack Drive
St. Paul, MN 55111
United States
[launch map]
(786) 810-9350
Visit Web Site