(Ellston, IA)
Scooter's 107th bar, first visited in 2006.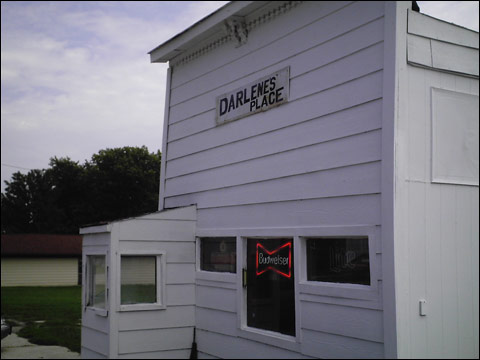 We sat at the short end of the L-shaped bar under the watchful eye of a mounted goat head smoking a cigarette (similar to the one shown here). To our left a couple of weathered farmers were having a drink.
"We've got a population of, oh, about forty*," one of the farmers told us, "so we're awful lucky to have this place."
This is one thing we love about this area of Iowa. No matter how far it is from the main highway, no matter how small it is, you can almost always count on finding a place to stop and share a drink with the locals.
As we finished our beers, two young future regulars came in for some root beer. Hopefully Darlene's will still be there for them when they come of legal age.
We still had more places to see, so we said goodbye to our friends at Darlene's and got back on the gravel highway towards our next destination.
*55, according to the US Census 2006 estimate

202 E Main St
Ellston, IA 50074
US
[launch map]
(641) 772-4992