(Salina, KS)
Scooter's 267th bar, first visited in 2007.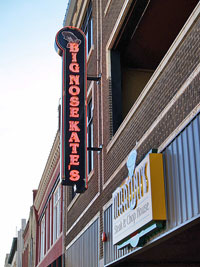 We were in downtown Salina, but we did not have our bearings and did not know where to go. We spotted a couple approaching from a parking lot and decided to follow them. They went in the back door of a building across the alley and up some stairs to the third floor. Which led us here.
We both had Bud Light. 16 oz. draws were $2.00.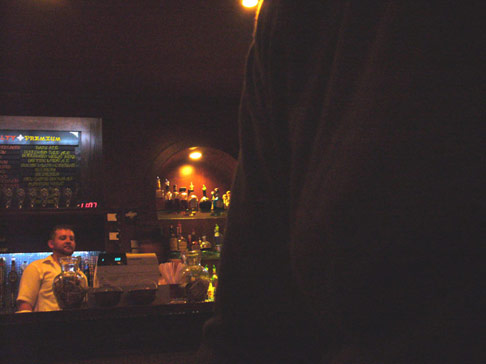 This was a large area with 2 main rooms and an outdoor concrete deck overlooking the street. However, sorry, but this is one Big Nose that blows. It just wasn't the type of bar we like to go to. Pretentious and filled with an assortment of hipsters, fratties, and trendy people.
We drank 3/4 of our 16 oz beers, decided that 12 ounces was good enough to count, and got the hell out.
When we got back downstairs we found it raining and stood under the awning trying to figure out where to go next. We asked a guy with several piercings where all the bars were. "There's only three," he insisted. We knew he was wrong but pretty much everyone around here insisted that Big Nose Kate's, Martini's (the bar downstairs from Kate's), and Groove (a bar across the street) were the only bars around. He gave us tickets to Groove (it had a cover charge otherwise) and showed us how to cut through Martini's to get out the front door (since we had entered via the alley).
Martini's looked much the same as Big Nose Kate's so we didn't bother to stop. We ran across the street in the rain to Groove, peered in the windows, and reached the same conclusion. We decided to ditch this block.
We knew we were on the main drag but didn't know where on it we were. We started walking south as lightning began to strike with increasing closeness. After a few blocks and no sign of a bar, Brandon approached a car sitting at a Sonic and asked for directions.
It turned out we were at the sound end of the strip and neeeded to go back and walk the other way. As i lightly rained we headedd back north, our beloved pizza still in tow.
Well, what do you know? Only 1 block past the area we had just come from, we found a cluster of good dive bars! (Damn trendy people and their not-knowin' of things that exist outside their trendy little world.)

121 N Santa Fe Ave # 201
Salina, KS 67401
US
[launch map]
(785) 820-8872