(Salina, KS)
Scooter's 270th bar, first visited in 2007.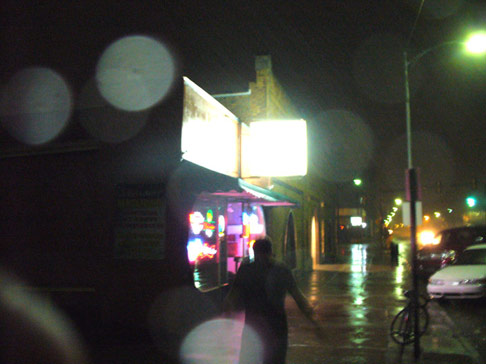 We both had Old Style. 12 oz. draws for $1.25 each.
Before long we once again began lamenting the loss of of our pizza. "At least it will be a good meal for a bum," I said. B's face lit up and he started chuckling.
"I have a phrase that just popped into my head," he said. "Check this….. 'Bum Feast'. That's exactly what that pizza is."
I started cracking up.
"I'd make a good name for a band," he added.
"I can see the debut album now," I said. "Bum Feast: Pizza On The Sidewalk."
And the cover art could have been the photo I should have taken of us moping over spilled sidewalk pizza.
Believe it or not, we began to get a second wind here and decided to keep going. So we stepped outside to head down to the next bar. We were stunned to find that what had been rain when we arrived at Rendezvous had since turned into a sky-wide waterfall. A river was running down the street with the water level already up to the chassis of the cars parked in front. We decided to call a cab instead. We dialed the number for Sunflower Taxi and got Lee again.
"It's going to be at least half an hour because the streets are all flooded," he said.
We went back inside and played Golden Tee until he arrived. B heckled me for using my thumbs instead of my palm when putting.
Lee arrived, and the two of us plus a third guy who had also called ran out in the pouring rain with him. We were surprised to find an already-full cab waiting for us. Somehow the three of us + Lee managed to squeeze in. We asked him to take us to any bar that was still open, but the places he named we had already been to. Not wanting to delay anyone else, we asked to just go back to the Budget King motel so that we could figure out a new strategy from there.
By now all of the streets were under 1 to 1-1/2 feet of water (I later learned that Salina got 5.3 inches of rain in 90 minutes that night!) and Lee looked nervous as all hell trying to get us to our destinations. He did a great job though so our hats definitely go off to him.
It was a little after 1:00am when we returned to our room. With nature behaving the way it was and less than an hour before Kansas law mandated that the bars closed, we decided thet prudent thing to do would be to call it a night.

249 N Santa Fe Ave
Salina, KS 67401
US
[launch map]
(785) 827-3830