(North Side, Minneapolis, MN)
Closed, but a new bar has opened in the same location.
Several drugs busts and a liquor license violation led to be being shut down in early 2008.
Re-opened in February 2010 as "Good Sports Bar and Grill".
Scooter's 167th bar, first visited in 2006.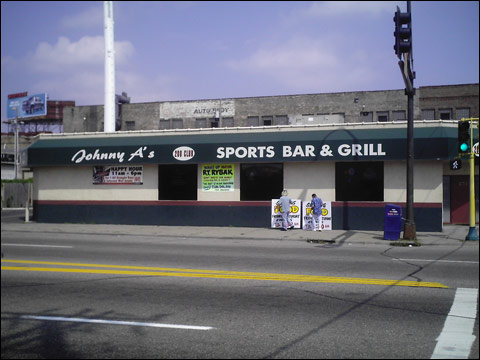 They were definitely right. In the morning Gary was almost the only black person we saw in this neighborhood Now we were the only white people anywhere in sight. As we approached the rear entrance of Johnny A's a guy tossed a crumpled napkin out of his car window. As we walked by Brandon pointed to the "No Littering" sign in front of him and said "Hey! The sign says 'No Littering'!" "What the f%@$ did you say?" said the stunned driver. "I'm just messin' with ya, man," said Brandon and the two exchanged a laugh.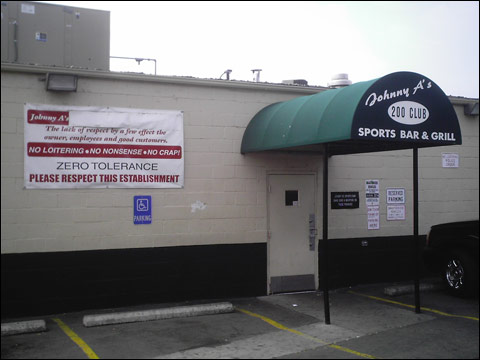 Johnny A's was packed but we managed to get a couple of seats at the bar. Just like outside, we were the only whites in the place. Our bartender was pretty cool but we didn't catch his name. After a while we walked over to watch some people play Silver Strike Bowling.
As we were sitting in front of Johnny A's taking pictures I heard a woman say "Excuse me!". I turned to look to find 7 angry people next to us. "Why did you just take a picture of my license plate?!?" Uhhh… uh…. "I didn't," I said, "We were taking a pictures of B.J.'s and Irv's". "No, I saw you, and you BOTH had cameras, you had them pointed straight ahead. "Only to see what we had taken pictures of. I swear, we were not taking pictures of license plates." "Come on," they said, "what in the world would you be taking pictures of bars for?" "We're on a road trip," I said, "and taking pictures of every bar we go to." They apparently accepted this answer because they walked away. Brandon was pretty ticked about being singled out and scrutinized but I pointed out that they probably experience that every day.

200 W Broadway
Minneapolis, MN 55411
US
[launch map]
(612) 522-0894
Visit Web Site